$98 for 2 Round-Trip Airfares to 50 Destinations & Attraction Tickets
Value

$1033
Discount

91%
You Save

$935
The deal ended at:
12:00AM
01/23/14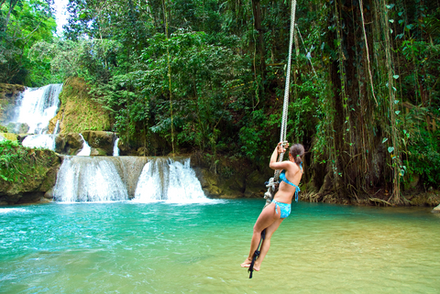 Fine print
Features and Terms
Round-trip airline for two (2) are included
Redeem anytime within 2-years of purchase.
Your flights are booked with major airlines in economy class.
Over 50 International and Domestic Destinations are covered, including England, France, Spain, Hawaii, Mexico, California and Florida.
Receive bonus tickets for museums, city tours, zoos, and other attractions
Choose from 3-4-5* hotels/resorts and pay normal published rates.
Absolutely No Timeshare! – Only Personal Services via ARC/IATA -Licensed Travel Desk to serve you.
More Details
Ideal gift for that special occasion/loved one
Each voucher includes round-trip airline tickets for two adults or one adult and one child when you book a stay at one of our participating hotels for the minimum nights required (use our calculator)
Must pay hotel published rates and book for the listed minimum number of nights.
Guarantee all published rates do not exceed Rack Rates.
Major hotel chains participating include Hilton, Sheraton, Wyndham, Holiday Inn, Luxury Resorts. At booking time you are responsible for paying for & booking a minimum nights stay at a hotel in the destination city.
View available destinations and related rates here: Destinations/Costs)
Travel package is fully transferable
Minimal blackout dates, depending on location and dates. The two weeks prior to and after December 25th are typically not available. .
Includes bonus attraction tickets: varies by destination
Must book at least 45 days in advance
For complete terms and conditions, click here
Have a voucher you are ready to redeem? Please have your voucher number ready and go to Escape The Ordinary World
Highlights
To view destinations, participating hotels and resorts, and frequently asked questions, please visit Escape the Ordinary World.
Escape The Ordinary World
Focus more on getting to your favorite vacation destination and worry less about fluctuating airfares . This voucher entitles you to 2 round trip airline tickets from major carriers like Delta, American Airlines, US Air, JetBlue and others to your choice of over 50 destinations when you reserve your accommodations from One Stop Travel at published rates. Choose from 3, 4 and 5 star participating hotels such as Hilton, Wyndham, Sheraton or exclusive golf & spa resorts for a minimum number nights stay paying the published rate listed on Escape the Ordinary World, and you will receive 2 ROUND TRIP major airline tickets to get you there and back for only $98, an amazing $1033 value!
To embed this deal, copy the code below and paste it into your website:
The Company
ICI Fly Free
866-669-4666
website
To view destinations, participating hotels and resorts, and frequently asked questions, please visit Escape the Ordinary World.
Escape The Ordinary World
OFFER ASSISTANCE
Pre-Purchase Questions or Comments: Please direct any pre-purchase questions to 2flyfree@ictravelworld.com or call 866-669-4666 to speak to our representative or to request a callback.
Already purchased a voucher & ready to book your stay? We appreciate your purchase and look forward to booking your travel. Please refer to your voucher and email transaction confirmation for your unique voucher code. Simply go to Escape The Ordinary World to start your reservation request. One Stop Travel Agents standing by to assist you Monday-Friday between the hours of 9am and 5pm EST. Please allow 7 days post purchase for your voucher codes to be processed and to submit your travel request via the web site.